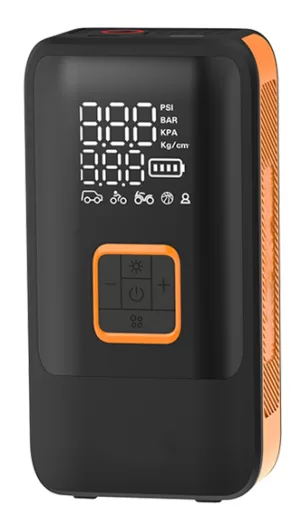 

150PSI



3*4000mAh Battery Pack



PSI, KPA, BAR, KG/CM²



Portable & Cordless & Fast inflation & Dual-Cylinder



yes



45L-50L/M
[Powerful 150 PSI and 2X Faster Tire Inflator, Lightweight and Portable]

Equipped with a high-performance chip and powerful motor, the SH03 dual-cylinder tire inflator delivers an impressive airflow of 45L/Min-50L/Min, making it 2X faster than others. It can fully inflate a 205/55 R16 car tire (0-36PSI) in just 4 minutes and refill from 29-36PSI in only 1 minute. Its compact and pocket-size design ensures easy portability for everyday use.

[Easy to Operate Dual Mode Power Supply, No Need to Worry]

The SH03 features a built-in 12000mAh rechargeable high-capacity battery, providing continuous inflation for 40 minutes. Additionally, it can be powered by a 12V cigarette lighter using a separate cable, eliminating concerns about battery power. The quick connect air hose technology allows for easy operation, with the inflation tube connecting to the inflator in just 1 second.

[Accurate Tire Pressure Gauge, Real-time Pressure LED Display Air Pump] Equipped with an upgraded high precision chip, the SH03 ensures accurate tire pressure gauge readings. The dual large LCD display shows both real-time pressure value and preset value, allowing for convenient observation and operation. The inflator also features an auto shut-off function when reaching the preset value, eliminating the risk of over-inflation.

[5 Inflation Modes and Maximum 160 PSI Pressure, Suitable for Various Inflation Situations] The SH03 offers 5 preset inflation modes for cars, motorcycles, bicycles, balls, and manual inflation. The manual mode can reach a maximum pressure of 160 PSI, providing versatility for a wide range of inflation needs.

[Heat-Resisting Air Tube, Noise Reduction, Lighting and Charging] The SH03 is equipped with a heat-resisting air tube that effectively isolates the high temperature generated during operation. It also features noise reduction technology, allowing the air pump to work without harsh noise. The built-in LED light provides convenience for inflating and changing tires in dark conditions. Additionally, it offers a 10V/2A Type-C input and 9V/2A USB output port, serving as an emergency fast-charging power supply for your phone.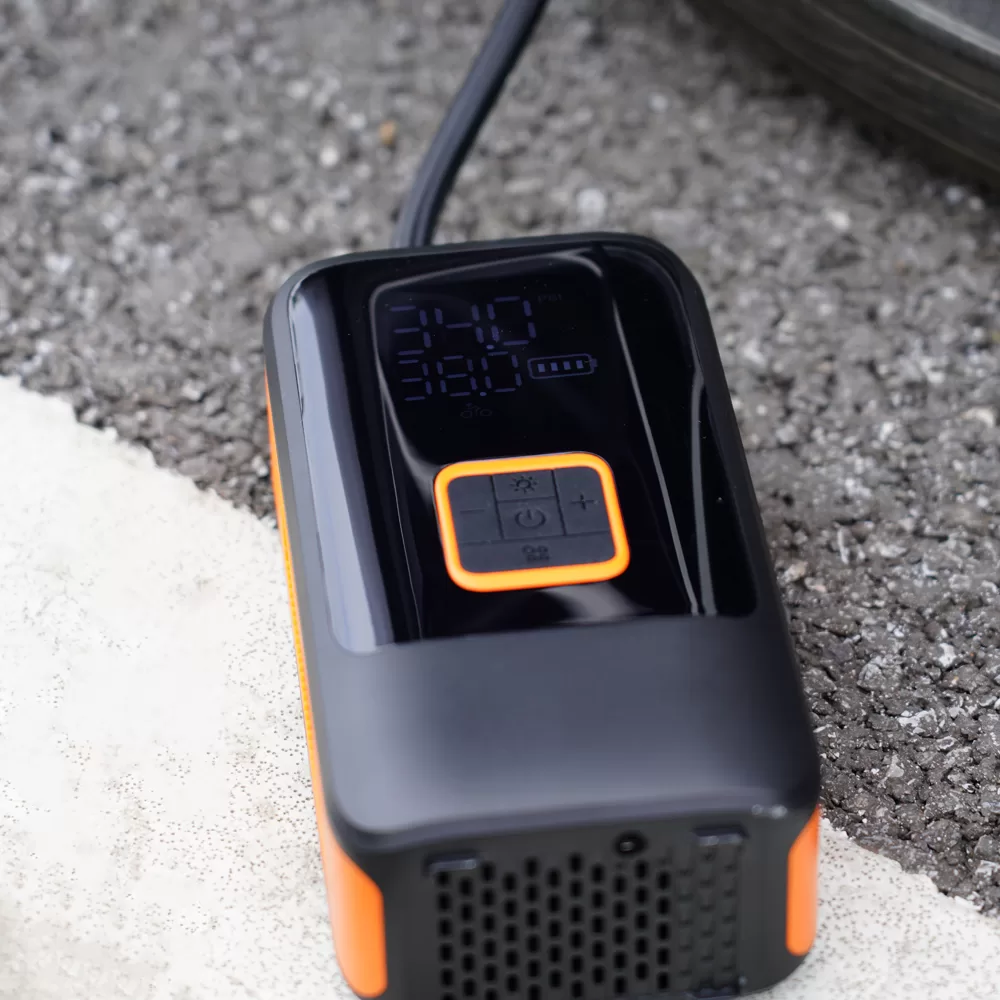 Fast Inflation Dual-Cylinder Car Tyre Pump SH03




Specs
Product Details
| | |
| --- | --- |
| Maximum Range | 160PSI |
| Power Supply | 2500*3mAh Battery Pack |
| Types of Tire Pressure | PSI, KPA, BAR, KG/CM² |
| Main Feature | Portable & Cordless & Fast inflation |
| LED Light | Yes |
| Air Flow | 32L-35L/M |
| Product Size | 130*112*56mm |
| Product NW | 650g |
FAQ
What Is the Maximum Air Pressure the Inflatable Pump Can Reach?

How Many Kinds of Objects Can the Inflatable Pump Inflate?

Car tires, bicycle tires, motorcycle tires, road bike tires, basketballs, rugby balls, volleyballs, soccer balls, small size swim rings (including but not limited to).
What Is the Inflation Efficiency of the Inflatable Pump?

Inflation flow rate of 32-35L per minute, about 2.0-2.4 bar for a typical car tire of 16 inches from about 1 minute 30 seconds.
In Addition to Inflation He Has Other Functions?

With LED lighting, rechargeable battery function.
What Is the Charging Method of the Inflatable Pump?

It uses USB-Type C cable charging.
How Long Does It Take to Charge the Inflatable Pump?

Charging time is about 3-4 hours.
How Long Can the Charging Power of the Inflatable Pump Support the Use Time?

A full charge can be used for about 25 minutes.
What Is the Noise Level of the Inflatable Pump?

80dB at a distance of 1 meter.
What Is the Weight of the Inflatable Pump?

How Long Is the Warranty Period of the Inflatable Pump?

The warranty period is one year.
What Do I Need to Pay Attention to When Using the Inflatable Pump?

It is not easy to use the inflatable pump for more than 10 minutes continuously, please note that the temperature of the air tube connection may reach up to about 70°, please do not touch it immediately after finishing the inflation.
Can the Inflatable Pump Be Used in Outdoor Environment?

Yes, the inflatable pump can be used in -10°~40° environment.
What Is the Length of the Inflatable Tube of the Inflatable Pump?
