

4Kpa



200-250/M



Type-C



2000*2mAh



Cordless & Portable & Deflate & Inflate
[Professional 2-in-1 electric air pump] Electric air pump is so strong that it can not only inflate objects, but also empty products by vacuuming the air. Quick acceleration – Easy way to inflate air mattresses, air boats, air cushions, air stools, air cushions, sofas, water beds, boats, pool toys, swimming rings, yoga balls, party festivals.
[Large battery capacity and USB charging] The electric air pump has a built-in 4000 mAh lithium battery. With the Type-C USB charging cable, full charging takes only 2 to 3 hours. The available time is 30-60 minutes depending on the nozzle.
[3 Nozzle Size] The air pump equipped with 3 different nozzle sizes, is the perfect fit for a variety of inflatable boats such as air mattresses, swimming rounds, inflatable toys, inflatable cushions, children's pools, etc. Pumping: vacuum bag, storage bag, compression bag. However, electric air pump is not for use with balloons, basketball, football and car tyres.
[Faster inflation and deflation] With the air pump, you can quickly and easily inflate and deflate air, 15 W high performance, maximum air pressure is 4000 Pa and is 30 times faster than manual air pumps. It only takes ten seconds to a few minutes (depending on the size of the object) to complete the inflation and deflation of the object.
[What you get Package includes] 1 x electric pump, 1 x USB cable, 3 x universal nozzle, 1 x user manual (English language not guaranteed). Please contact us first if you have any problems with the product during use.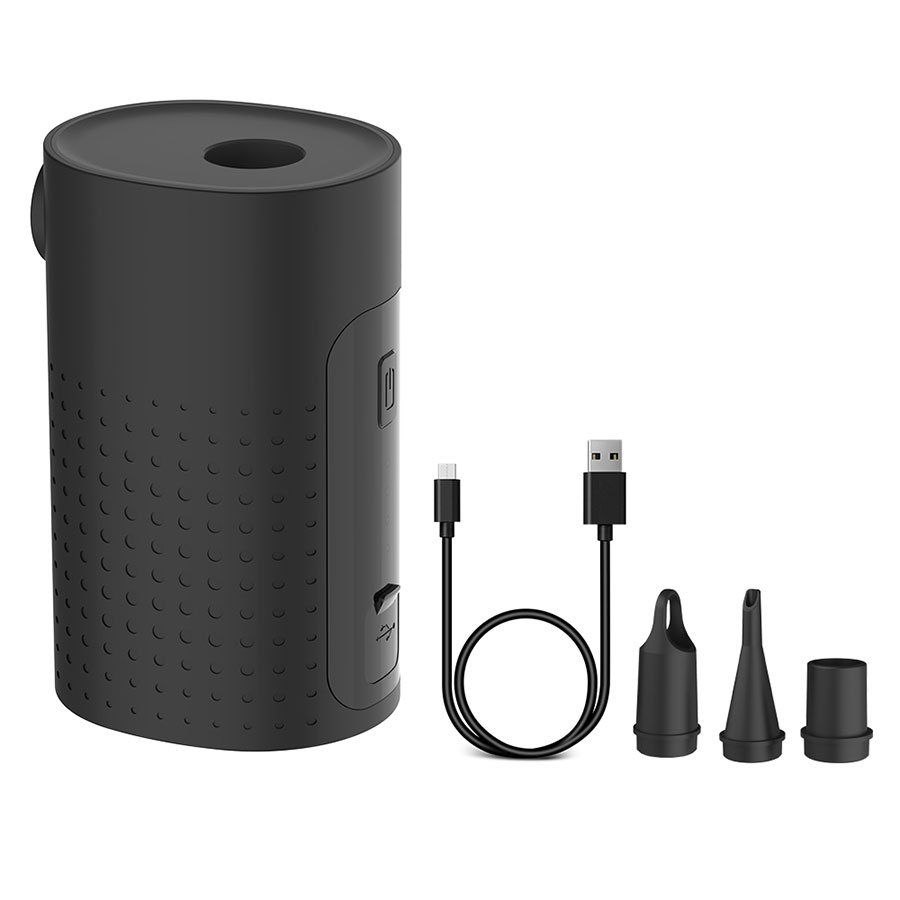 Portable Electric Air Pump For Inflatables EP6
Product Size
No informaton




Specs
Product Details
| | |
| --- | --- |
| Air Pressure | 4Kpa |
| Air Flow | 200-250/M |
| Charging Method | Type-C |
| Battery | 2000*2mAh |
| Main Feature | Cordless & Portable & Deflate & Inflate |
FAQ
What Is the Highest Air Pressure the Inflatable Pump Can Reach?

How Many Kinds of Objects Can the Inflatable Pump Inflate?

Inflatable mattress, inflatable sofa, swimming ring, yoga ball (including but not limited to).
What Is the Inflation Efficiency of the Inflatable Pump?

Inflation flow of 220L-250L per minute, it only takes about 3 minutes to fill a normal double mattress.
What Is the Charging Method of the Inflatable Pump?

It uses USB-Type C cable for charging.
How Long Does It Take to Charge the Inflatable Pump?

Charging time is around 3-4 hours.
How Long Can the Charging Power of the Inflatable Pump Support the Use Time?

A full charge can be used for about 20 minutes.
What Is the Noise Level of the Inflatable Pump?

80dB at a distance of 1 meter.
What Is the Weight of the Inflatable Pump?

How Long Is the Warranty Period of the Inflatable Pump?

The warranty period is one year.
Can the Inflatable Pump Be Used in Outdoor Environment?

Yes, the inflatable pump can be used in -10°~40° environment.
What Are the Accessories of the Inflatable Pump?

Small, medium and large air nozzles and a USB-Type C cable.