

2000mAh



12PSI



Yes



Yes



Aluminum Housing & Low Noise & LED display
[4 Preset Modes] The MY01 electric ball pump is an upgraded version that has been designed with 4 preset ball modes: basketball, soccer, football and volleyball. You don't have to preset the pressure anymore; Just one-key select the ball mode you need and inflate that is more convenient to use. Also, we do reserve the custom mode that you can preset manually to inflate other balls. (NOTE: it is not suitable for balls requiring pressure under 2 PSI ).
[New Function–Deflation & More Accurate Pressure Detection] This air pump for ball detects pressure more accurately than the old version. Not only can it inflate the sport balls, but also it has deflating function that can help deflate to proper pressure if the ball pressure was too high.
[Twice Faster & More Powerful] Equipped with upgraded motor, the MY01 inflates twice faster than the old version that will fully inflates a ball within one minute. Additionally, it can inflates higher pressure up to 15 PSI, while the old version is only 12, which is more powerful that can work for other balls with higher pressure requirement.
[Automatic Ball Pump] This is an automatic ball pump, which is different from the push-pull air pumps that are inefficient and exhausting. It inflates and stop automatically. Ultra easy to use, even for children. Also, it brings great help for coaches, whom have to inflate tons of equipment before the practice session, to save their time and energy.
[Portable] This ball pump has a compact design (Size: 6.29*1.57*1.57inch, Weight: 0.55LB) which is portable. It fits in your bag and even your pocket, easy to be carried to the court and other where you might need it. Also, the MY01 version has been built in a needle storage hole that you can store a ball needle inside. What a convenient design!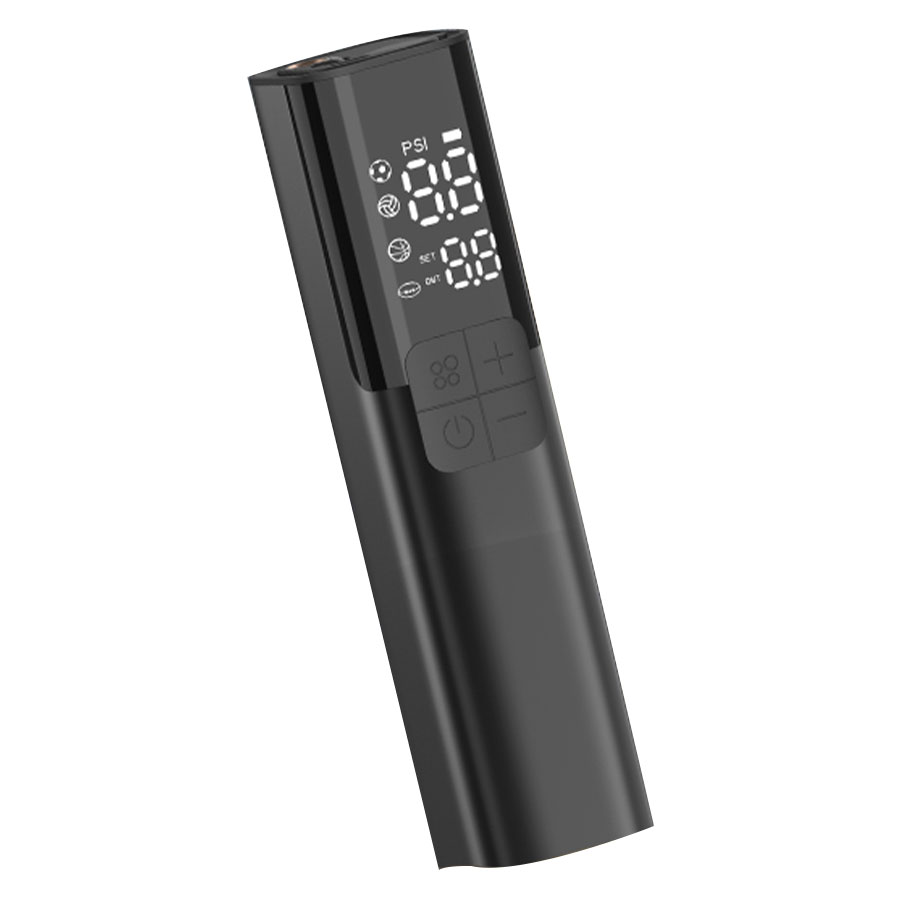 Electric Soccer Ball Pump MY01
Product Size
No informaton




Specs
Product Details
| | |
| --- | --- |
| Battery | 2000mAh |
| Maximum Range | 12PSI |
| Auto Stop | Yes |
| LED Light | Yes |
| Main Feature | Aluminum Housing & Low Noise & LED display |
FAQ
What Is the Highest Air Pressure the Inflatable Pump Can Reach?

How Many Kinds of Objects Can an Inflatable Pump Inflate?

Basketball, rugby, volleyball, soccer, small size swim rings (not to be used with tires).
What Is the Inflation Efficiency of the Inflatable Pump?

3.5L per minute, it takes only about 1 minute to fill a basketball on average.
Does It Have Other Functions Besides Inflation?

What Is the Charging Method of the Inflatable Pump?

It uses MicroUSB cable for charging.
How Long Does It Take to Charge the Inflatable Pump?

The charging time is about 3-4 hours.
How Long Can the Charging Power of the Inflatable Pump Support the Use Time?

A full charge can be used for about 40 minutes.
What Is the Noise Level of the Inflatable Pump?

40dB at a distance of 1 meter.
What Is the Weight of the Inflatable Pump?

How Long Is the Warranty Period of the Inflatable Pump?

The warranty period is one year.
Can the Inflatable Pump Be Used in Outdoor Environment?

Yes, the inflatable pump can be used in -10°~40° environment.
What Is the Length of the Inflatable Tube of the Inflatable Pump?
