

4000mAh



15PSI



Yes



Yes



Aluminum Housing & Low Noise & LED display
[Automatic Ball Pump] The electric ball pump is designed with intelligent pressure detection and stop function, just preset the correct ball PSI, press start and it will automatically inflate and stop.Unlike the inefficient manual push-pull air pump, this automatic ball pump is more convenient and time-saving to use.
[Fast inflation] Basketball pump, air flow: 3.5L/M, it only takes 1-2 minutes to complete the ball inflation. Extremely easy to use, even for children. Also, this is a great help for coaches who have to inflate tons of equipment before practice to save time and energy.
[4 Inflation Modes] The ball pump has 4 preset ball patterns: basketball, soccer, volleyball and rugby. Simply press one button to select the desired ball mode and inflate it. In addition, we have retained a custom mode that you can select to inflate a child's ball.
[Emergency Power Bank and LED lights] The ball pump uses Type-C charging, 4000mAh powerful battery, can be used as an emergency power to charge your phone. LED lighting, long press "M" for 3s to turn on and off, convenient for you to inflate the ball in the dark environment, can also be used for night walking lighting.
[Mini and Portable] This basketball pump can be placed directly in your pocket or backpack. (Size: 3.54*2.48*1.57 inches, Weight: 0.41lb) In addition, this ball pump has a built-in needle storage hole for a ball needle! Ball pump includes:1*Portable ball inflator, 1*Hose, 2*Ball needle, 1*Type-C cable, 1*Storage bag, 1*User manual.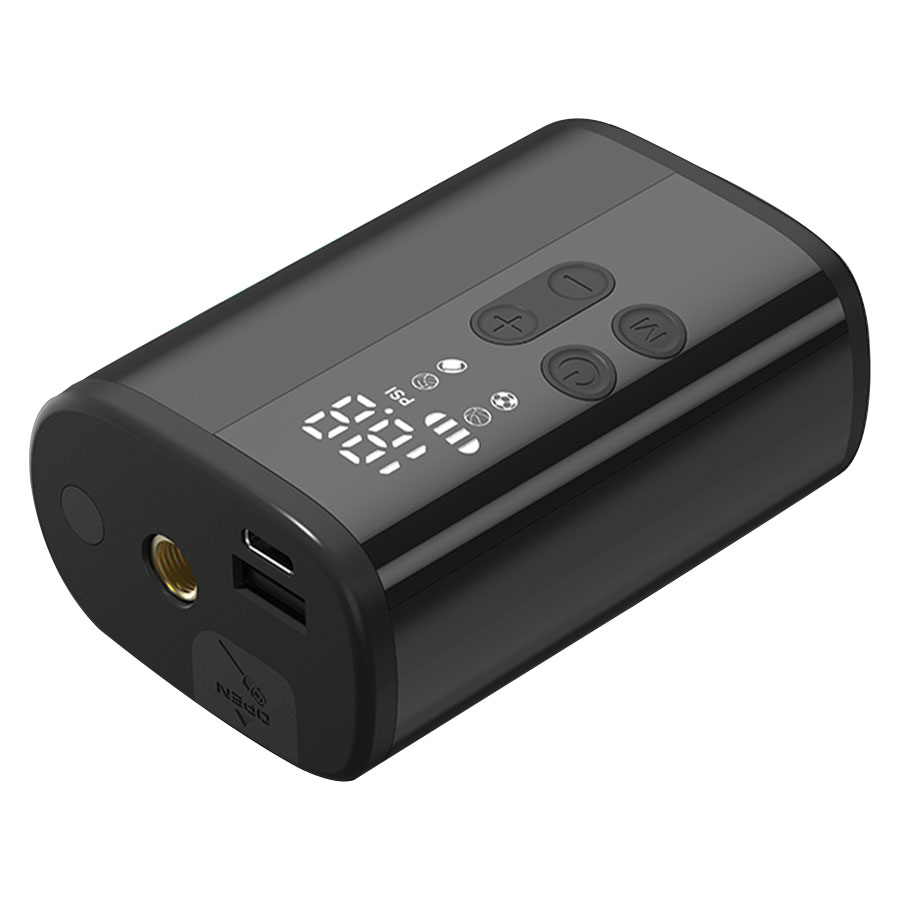 Portable Electric Ball Pump P101
Product Size
No informaton




Specs
Product Details
| | |
| --- | --- |
| Battery | 4000mAh |
| Maximum Range | 15PSI |
| Auto Stop | Yes |
| LED Light | Yes |
| Main Feature | Aluminum Housing & Low Noise & LED display |
FAQ
What Is the Highest Air Pressure the Inflatable Pump Can Reach?

How Many Kinds of Objects Can an Inflatable Pump Inflate?

Basketball, rugby, volleyball, soccer, small size swim rings (not to be used with tires).
What Is the Inflation Efficiency of the Inflatable Pump?

3.5L per minute, it takes only about 1 minute to fill a basketball on average.
Does It Have Other Functions Besides Inflating?

With LED lighting, rechargeable battery function.
What Is the Charging Method of the Inflatable Pump?

It uses USB-type C cable charging,
How Long Does It Take to Charge the Inflatable Pump?

Charging time is about 2-3 hours.
How Long Can the Charging Power of the Inflatable Pump Support the Use Time?

A full charge can be used for about 100 minutes.
What Is the Noise Level of the Inflatable Pump?

40dB at a distance of 1m.
What Is the Weight of the Inflatable Pump?

How Long Is the Warranty Period of the Inflatable Pump?

The warranty period is one year.
Can the Inflatable Pump Be Used in Outdoor Environment?

Yes, the inflatable pump can be used in -10°~40° environment.
What Is the Length of the Inflatable Tube of the Inflatable Pump?
