

120PSI



2000*2mAh Battery Pack



PSI, KPA, BAR, KG/CM²



Portable & Cordless



Yes



18L-20L/M
[Fast inflation efficiency]

Newo BP198 Compact Air Compressor with 2*2000mAh built-in battery capacity , which can fill 3 car tires with full charge. It provides maximum pressure of 150 PSI and airflow of 18L-20L/Min, which takes 90seconds to get a bike tire fully inflated.

[Large dual display, Atuo Shut-off]

Newo portable air compressor is equipped with dual digital display, the upper and lower screen displays real-time tire pressure and preset tire pressure value. 5 operating mode:custom mode, car mode, bike mode, motorcycle mode and ball mode. The four types setting pressure units (PSI, BAR, KPA, Kg/cm²) help you choose the most convenient pumping mode. It also provides you with rest-assured using experience based on the auto shut off function at the desired level.
[Deflation Function and Air Hose Storage] Newo mini air compressor for car and bike tires designed with a deflation function and normal inflation. Press the side button to activate deflate function. Besides, it has a smart design for the air hose storage into the product itself.
[More Than a car tire pump] The LED emergency light that is on the top of this portable air pump providing convenience for you to inflate in the dark or other situations for the emergency lighting.

[Multifunctional car tire pump]

The tire pump for car portable comes with 3 different extra air nozzles. Suitable for inflating cars, motorcycles, bicycles, and various balls even for baby's mini size swimming rings.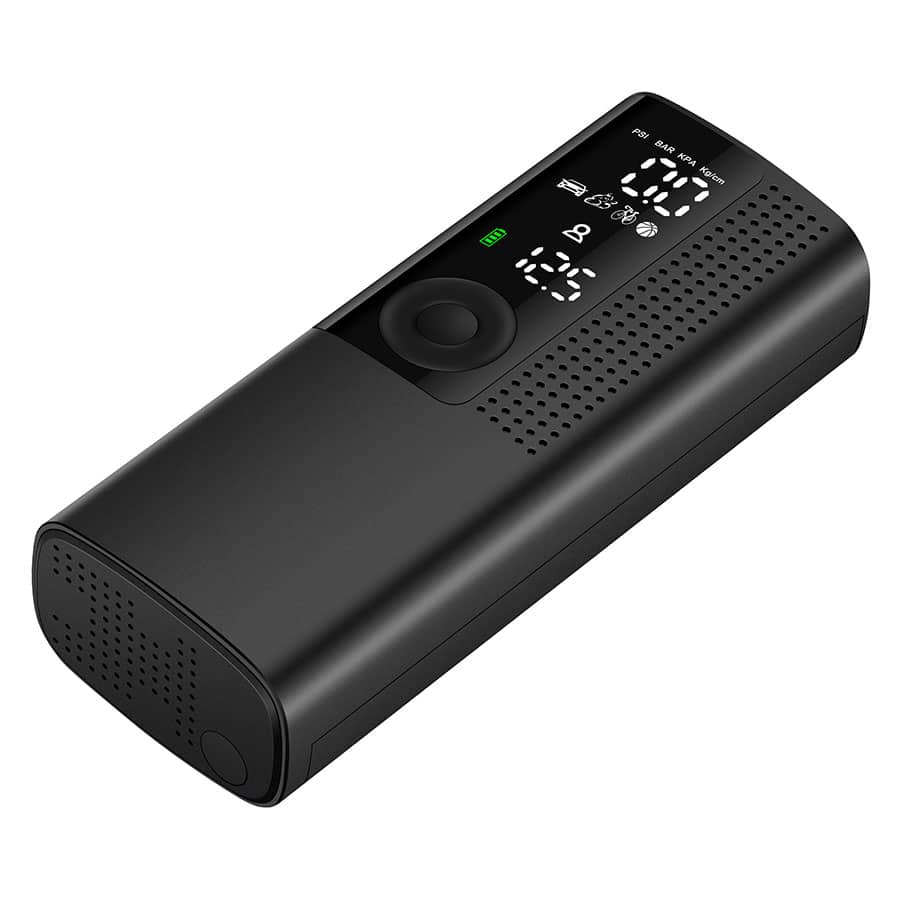 Portable Electric Car Tyre Inflator BP198




Specs
Product Details
| | |
| --- | --- |
| Maximum Range | 120PSI |
| Power Supply | 2000*2mAh Battery Pack |
| Types of Tire Pressure | PSI, KPA, BAR, KG/CM² |
| Main Feature | Portable & Cordless |
| LED Light | Yes |
| Air Flow | 18L-20L/M |
| Product Size | 41x61x155mm |
| Product NW | 382g |
FAQ
What Is the Highest Air Pressure the Inflatable Pump Can Reach?

How Many Kinds of Objects Can the Inflator Pump Inflate?

Car tires, bicycle tires, motorcycle tires, road bike tires, basketballs, soccer, volleyballs, soccer balls, small size swim rings (including but not limited to).
What Is the Inflation Efficiency of the Inflator Pump?

17-20L per minute inflation flow, general car tires about 16 inches from 2.0-2.4 bar time in about 5 minutes.
Does It Have Other Functions Besides Inflation?

What Is the Charging Method of the Inflatable Pump?

It uses USB-Type C cable charging.
How Long Does It Take to Charge the Inflatable Pump?

Charging time is about 3-4 hours.
How Long Can the Charging Power of the Inflatable Pump Support the Use Time?

A full charge can be used for about 20 minutes.
What Is the Noise Level of the Inflatable Pump?

80dB at a distance of 1 meter.
What Is the Weight of the Inflatable Pump?

How Long Is the Warranty Period of the Inflatable Pump?

The warranty period is one year.
What Do I Need to Pay Attention to When Using the Inflatable Pump?

It is not easy to use the inflatable pump for more than 10 minutes continuously. Please note that the temperature at the connection of the air tube may reach up to 70°, so please do not touch it immediately after finishing the inflation.
Can the Inflatable Pump Be Used in Outdoor Environment?

Yes, the inflatable pump can be used in -10°~40° environment.
What Is the Length of the Inflatable Tube of the Inflatable Pump?
